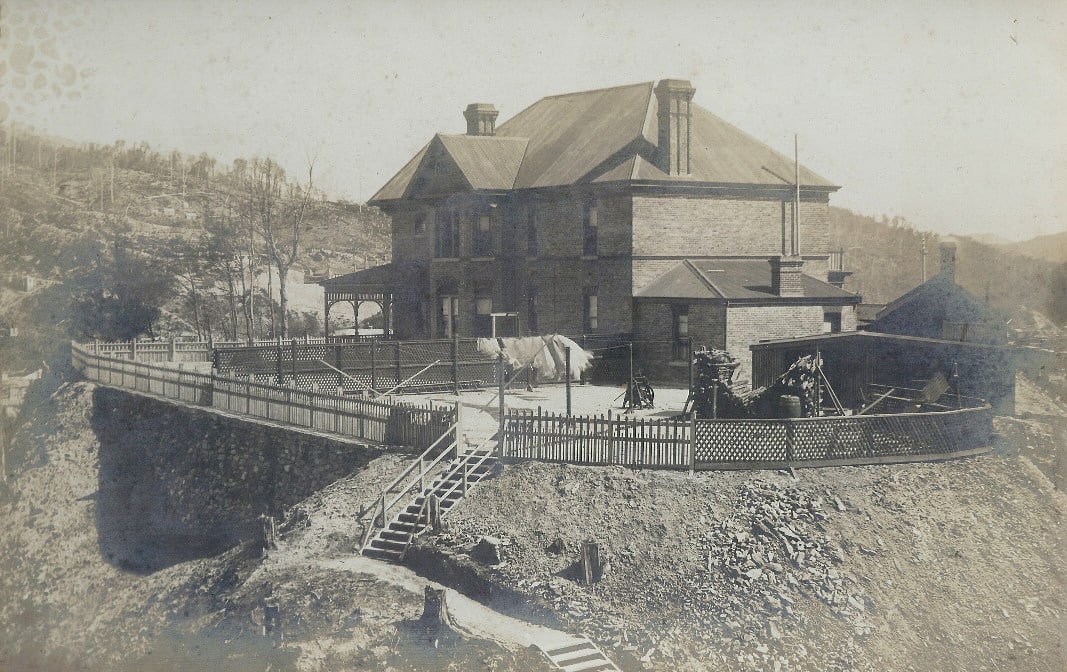 An early photograph of Penghana, from the rear of the property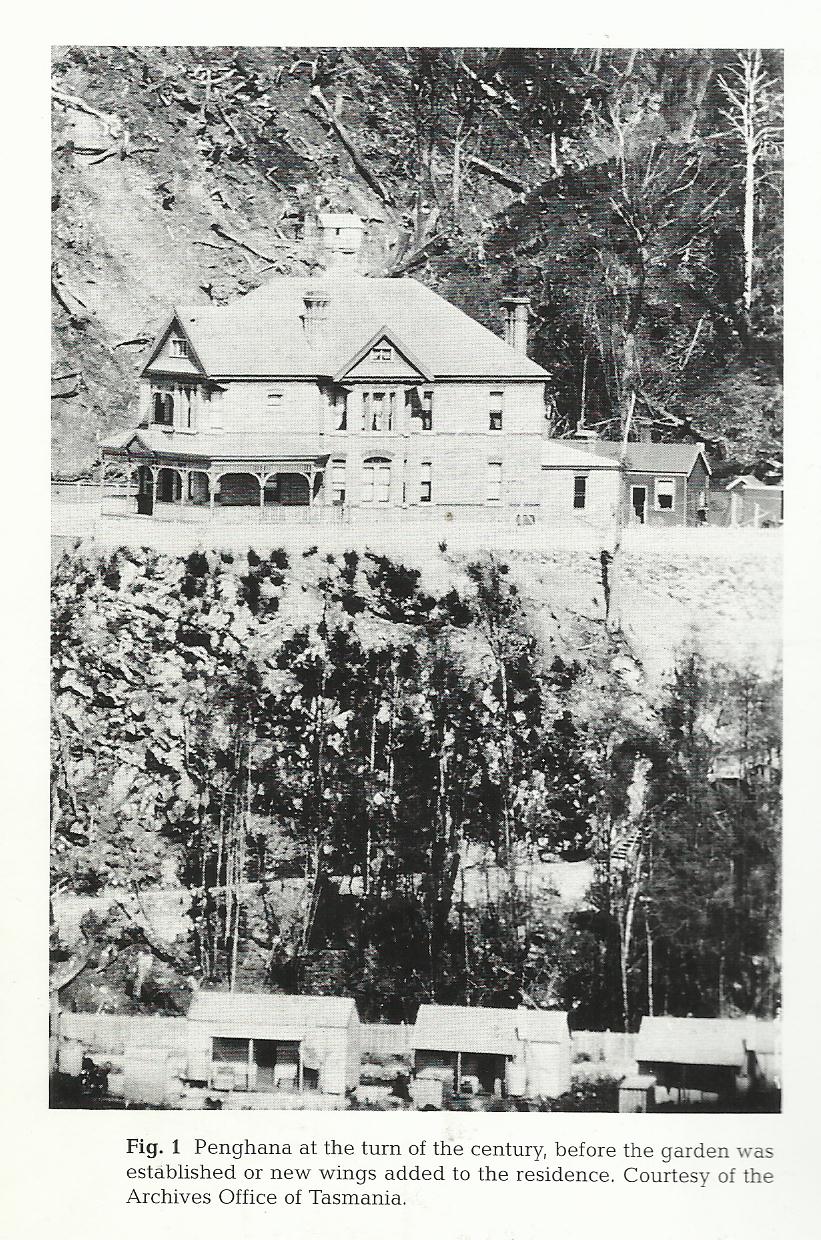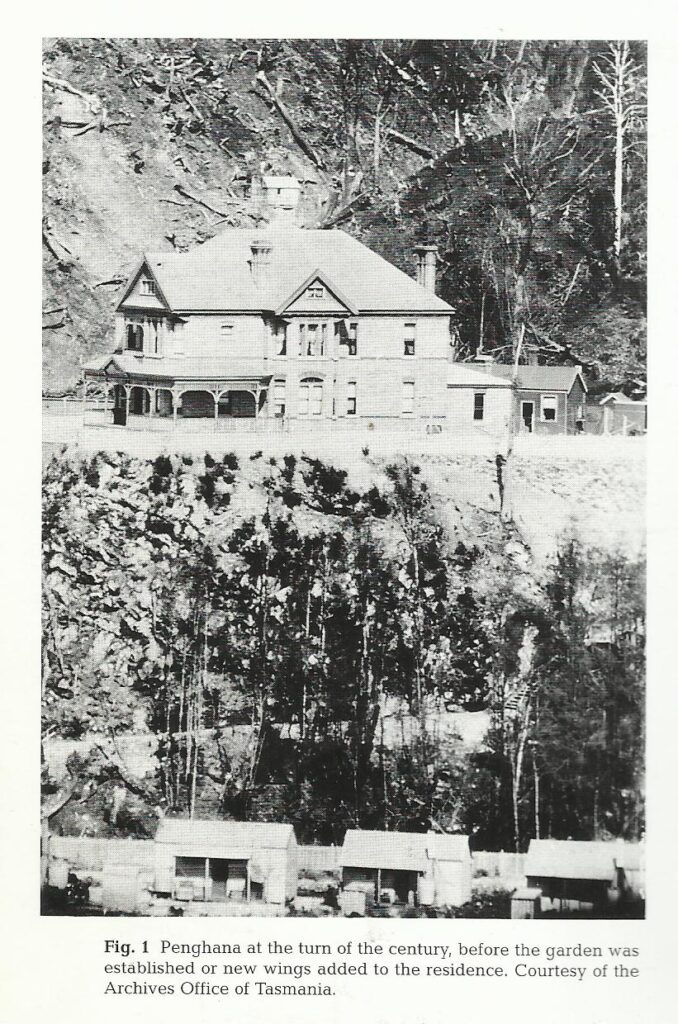 Penghana circa 1900, photograph from the Tasmanian Archives and Heritage Office
Penghana was built in 1898 for the General Manager of the Mount Lyell Mining and Railway Company, Mr Robert Sticht, after fire destroyed the "tent" styled settlement which had grown up in the shadow of the progressive smelters.
In the late 1890's Queenstown's development of buildings reflected the enormous wealth associated with the company's desire for a corporate identity to project a successful and confident image and inspire investor confidence.
As Queenstown was a company town and the General Manager was the most powerful person in the town, the general manager's residence was constructed and positioned to exemplify that.
Penghana is said to be an Aboriginal word for 'river crossing'.
Robert Sticht was a brilliant American metallurgist who came to Queenstown in 1895 to solve the difficult problem of smelting the complex West Coast ores. He designed and supervised the construction of a unique reduction works using the new pyritic process of smelting, on which he became a world authority.
Sticht who was appointed General Manager in 1897 was highly respected and held in awe by many and known for his concerns with the social and industrial welfare of Mt Lyell's workers and their families.
After Robert Sticht's death in 1922, ten more general managers and their families made Penghana home until 1995.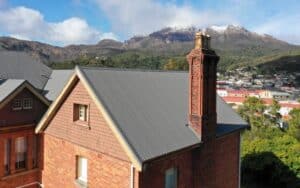 Penghana Bed and Breakfast hosted and self-contained accommodation overlooks Queenstwon and Mount Owen on Tasmania's West Coast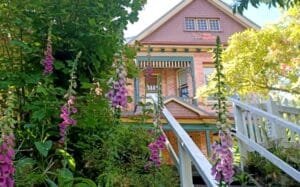 Penghana Bed and Breakfast offers luxury hosted accommodation in Queenstown, Tasmania
This imposing Queen Anne Federation style residence is the premier residential building in Queenstown. From its lofty location on a knoll above the township, the house is symbolic of its past, present and its future.
As one of Tasmania's significant properties, it signifies the foundation, growth and development the West Coast's mining.
In June 1995 when the freehold title was transferred to the National Trust the house has operated under Lease to the National Trust of Australia (Tasmania), as an accommodation venue.
Your hosts purchased the business as a going concern in December 2015 and the business today is ranked by industry monitors as the number one accommodation business in Queenstown.
For the privacy of our guests, we cannot offer tours of the house. The only way to see Penghana is to come and stay with us. When you do, you can be assured of a warm welcome.